This Is Us has made it's way back to our TV screens this Tuesday with an all new episode following that cliffhanger with Toby.
And look, Toby is OK! But I was a bit disappointed with that cliffhanger in the winter finale, the whole "Is he going to live or is he going to die?" type of cliffhanger felt a little forced to me, and it's been quite overplayed more than we want it to in many other shows. I mean, glad Toby is alright, but I thought it could have been played out better.
In 'The Right Thing To Do' the flashbacks are sunk into this episode more than usual, which was nice to see because who wouldn't want to see more of Jack and Rebecca in the 70's? But this time, it was during the time they found out they were not only having a baby, but they were having triplets.
Seeing Jack and Rebecca going through all of this worry and stress in fear of not being able to handle three children with the situation they were in was fitting to watch. It's something a lot of couples go through, and the worry through it all was realistic in a way where you felt for them.
Can we just official state that Jack Pearson is the best TV husband and father? Because, seriously, he never fails to blow me away. Great performance Milo Ventimiglia, how we love you so.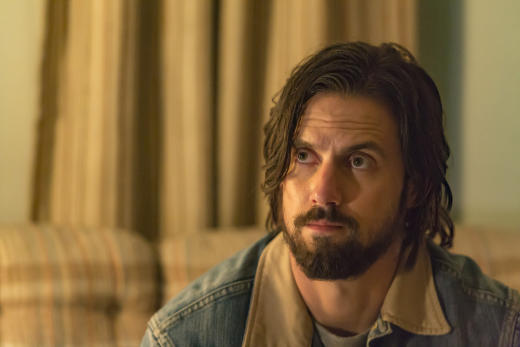 As parents or soon to be parents, life can throw you so many curve-balls and sometimes, making ultimate sacrifice is something that comes with it. And Jack did just that, Rebecca as well.
In the opening of the episode, we get a short glimpse of Jack's background as a teenager with his no so nice and fearful father and mother. Now we know that Jack's father isn't someone he likes to talk about. Makes you wonder more about Jack's past, especially when he surprisingly went to go see his father to ask for money.
His father doesn't even know that he's married and is expecting triplets. I guess somethings are better kept a secret, but something tells me that this will turn out to be a bad idea. Just a hunch.
Rebecca's mother is no good either, and we see more of that and now we totally understand the way that Jack and Rebecca are, they are similar in way where they are also different.
Randall seems to have some trouble with accepting William the way that he is. But just when you thought it was all about jealousy, it clearly wasn't. It was just Randall being the concerned and caring man just worried about his father's well-being.
Please don't take away William from us, it feels like it's coming down way too soon. And I'm all worried. And sad.
Meanwhile, Kevin is having some double trouble as he's stuck between choosing Sloane and Olivia. Olivia is back, eh. I wasn't a fan of her before and I don't think that will change, no matter how much she says that she has.
Sloane and Kevin are cute together, and they mesh really well. I was starting to like seeing them together, though it came about too fast, they seem to be doing just well around each other. But now, it's obvious Kevin has those unresolved lingering feelings for Olivia.
It's going to be a mess, but I'm hoping that gets resolved soon than having it dragged out.
There's so much I would like to see go forward within the remaining of the episodes for this season. Mainly, the question everyone can't stop asking is how and when did Jack die. We got a bit of a piece of his past in this episode, maybe we will be getting more the upcoming ones as well.
Other thoughts:
Gotta love when Kevin, Randall and Kate do their 'Big Three' thing. So cute
Can we see more of Beth, please?
Rent was really cheap back in the 70's. I'll take that than what it is now.
What did you think of the episode? Comment below!
This Is Us continues Tuesdays 9/8c only on NBC!