Dancing with the Stars season 25 kicked off tonight! Head judge Len Goodman, Carrie Ann Inaba, and Bruno Tonioli returned to judge this season's new contestants along with hosts Tom Bergeron and Erin Andrews. Missing from the judges table this season is two-time mirror ball champ, Julianne Hough (all the Houghs are missing!) Meet the new contestants and see how they did in the first round of competition.
Meet the Celebs and Pros 
Former NFL wide-receiver, Terrell Owens with Cheryl Burke (#TeamGetchaPopcorn)
Cha Cha
First up for the night was Terrell and Cheryl! Pro, Cheryl returns to the ballroom tonight for her 20th season! Football players generally do very well in competition (Season 24 winner was Rashad Jennings.)  so I am going to give Terrell a few weeks before we start seeing some clean performance. Overall, Terrell kept up with Cheryl and didn't miss a step, but he needs to work on his foot work. Score: 15/30
Singer, Debbie Gibson with Alan Bersten (#TeamSonBerst)
Foxtrot
Alan is finally a pro! Long-time troupe member who is best known (by me at least; this guy doesn't even have a Wikipedia page!) for filling in for injured pros Mark Ballas and Maks Chmerkovskiy and respective partners, Paige VanZant and Heather Morris in past seasons. Eighties pop star, Debbie Gibson's musical background will give her an extra edge in competition. She delivered a solid Week 1 performance, but she and Allan need to develop some chemistry and get closer in proximity if they want to make an impact. Score: 17/30
See Alan and Paige's Sizzling Salsa from Season 22
Pretty Little Liars star, Sasha Pieterse with Gleb Savchenko (#TeamAteam)
Cha Cha
There is no doubt that Sasha's PLL fanbase will keep her in the competition for a while. I found her very nervous throughout her performance often a head of the music, but she never missed a step. I believe once she overcomes her nerves, she could easily be a frontrunner for the finals. Not to mention more creative choreography from Gleb! Score: 18/30
Remember Gleb and Jana Kramer's steamy Tango in Season 23
Property Brother, Drew Scott with Emma Slater (#TeamHotProperty)
Foxtrot
One-half of the Property Brothers teamed up with reigning mirror ball champ, Emma to dance a flat-footed Foxtrot. The one foot height difference between the pair is definitely going to be a challenge, but we've seen Emma work wonders with her partners in the past. Remember Bill Engvall in Season 17? Score: 16/30
Shark Tank's Barbara Corcoran with Keo Motsepe (#TeamSharkeo)
Salsa
Poor Keo! Will he ever get a finals-worthy partner? With the exception of Jodie Sweetin in Season 22, Keo has yet to make it pass an 11th place finish. How is he supposed to get a fan-base to vote if we don't get see him interact and teach his partners? I would love to see what choreography he can bring to DWTS. Barbara Corcoran seems so enthusiastic and happy to be dancing in a literally shark tank and being all over Keo (he doesn't seem completely thrilled about her marriage proposal). Unfortunately, I smell another early finish to the season for Keo. Score: 14/30
Actor and singer, Jordan Fisher with Lindsay Arnold (#TeamFishUponAStar)
Tango
Can you say jackpot? Maybe Lindsay can actually win this season. Jordan is no stranger to dancing with  Hamilton and Grease: Live on his resume.  He performed one of the best routines of the time with a Tango you would expect to see somewhere around Week 3-4 of the competition. He was actually leading his partner! I was impressed and Jordan has a new fan! He is definitely a contender for mirror ball. Score: 22/30
98 Degrees member/TV personality Nick Lachey with Peta Murgatroyd (#TeamMomAndPops)
Cha Cha
Nick's got some big shoes to fill. Brother, Drew Lachey was in audience tonight and brought his mirror ball trophy he won with partner Cheryl Burke in season 2. (Let me remind you of this finale freestyle.) I was super excited to see this performance, but I got nothing from it except the feeling of shame after staring at Peta's insanely toned body months after giving birth. Score:18/30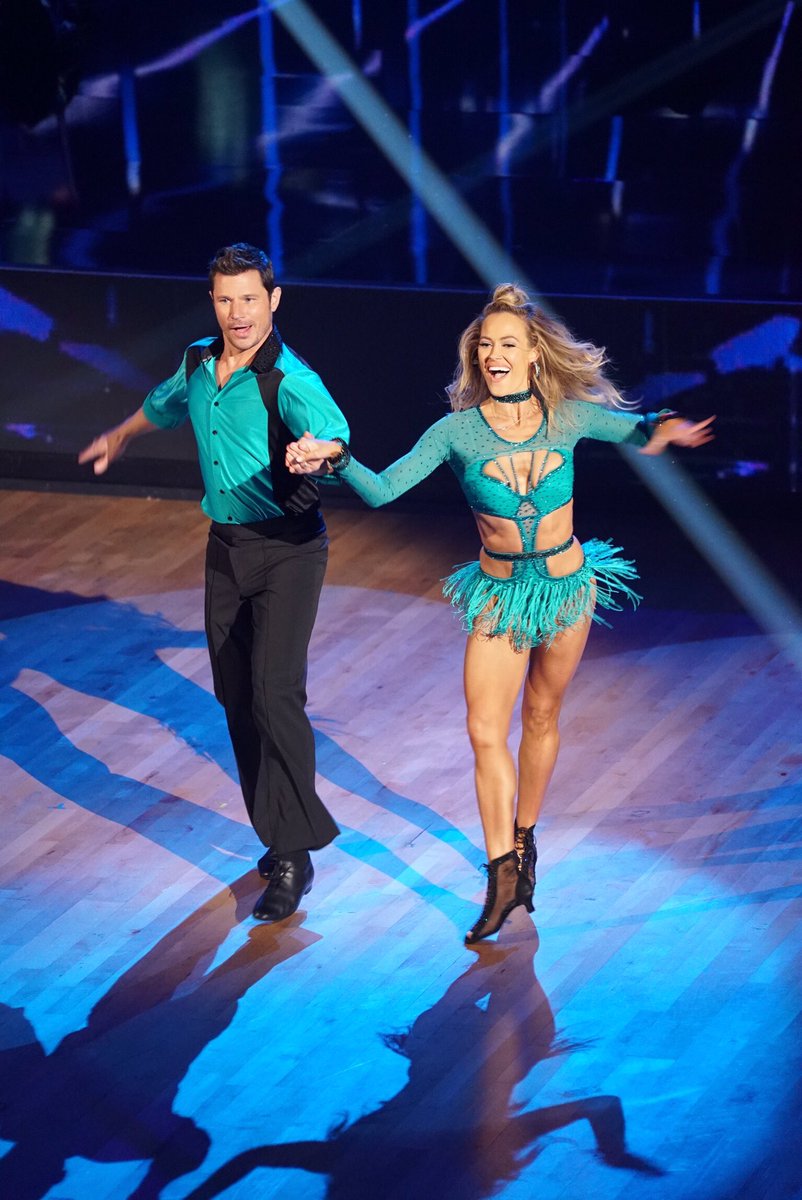 TV personality, Vanessa Lachey with Maksim Chmerkovskiy (#TeamBabiesAndBallroom)
Cha Cha
As Len told Nick, he better watch out because wifey, Vanessa can actually dance! It was so adorable that they brought their team name to the dance floor with glitter baby carriages and baby carriers. I thoroughly enjoyed her dancing and I can't wait to see more. And as I had predicted, married life and a baby has soften Maks or as Tom put it, "lost his personality". Score: 21/30
Actor, Frankie Muniz with Witney Carson (#TeamFranneyPack)
Foxtrot
Remember Frankie Muniz from Agent Cody Banks, they happened to mention it a couple thousand times in his pre-performance package. Also, finally a partner Witney had heard of! Frankie was genuinely excited to be dancing, but the nervousness was all over his face. I think with Witney as his partner, Frankie can easily improve and turn his enthusiasm into great scores.  Score: 19/30
WWE wrestler, Nikki Bella with Artem Chigvintsev (#TeamSmackdown)
Tango
If I were Artem, I would be afraid of his partner who ended the dance flipping him over her shoulder (body slam?). However, Nikki's routine lacked emotion and she spend most of the dance looking down with a few hiccups here and there. Score: 20/30
F

ormer NBA player, Derek Fisher with Sharna Burgess (#TeamHoopsAndHeels)

Salsa

Derek Fisher's mom had the best reaction when he told her he was competing and she reminded that Len will be watching his feet. He began his week 1 performance with some High School Musical-esque coordinated basketball dribbling. Sharna didn't waste time showcasing his strength with lifts (lifts are ok in Salsa!) and overall gave a solid performance. I think Sharna can work her magic and change basketball players' rep on the show. Score: 18/30
Paralympic swimmer, Victoria Arlen with Val Chmerkovskiy (#TeamViVa)
Cha Cha
Amazing and inspiring! My mouth was hanging open by the end of Victoria and Val's dance. A year ago, Victoria was learning how to walk after spending 4 years in a vegetative state and 10 years in a wheelchair. Now she is competing on Dancing with the Stars! Her routine was full of energy and her smile lit up the entire ballroom. Score: 19/30
Violinist, Lindsey Stirling with Mark Ballas  (#TeamSTARK)
Cha Cha
I was so excited to hear Lindsey Stirling was competing! If you are a longtime DWTS watcher, you may remember that she has performed many times! Lindsey's performance consisted of sharp footwork which Len called "the dance of the night." With her musical background and Marks super creative and edgy choreography, I predict Lindsey will be in the finale (unless another Sabrina Byrant or Heather Morris thing happens again.) Bonus points for Game of Thrones reference in the team name!  Score: 22/30
Remember, there was no elimination this week and all dancers will be back next week Monday for Ballroom Night and Tuesday for Latin Night with an elimination at the end of each. That's two dances to prepare for week 2! Week 2! I am stressed for these dancers! Don't forget to vote for your favorites!
What did you think of this season's competition? Who are you looking forward to see each week? Who is your pick as mirror ball champion? Leave your thoughts in the comments below! (And tell your friends about RLR!)